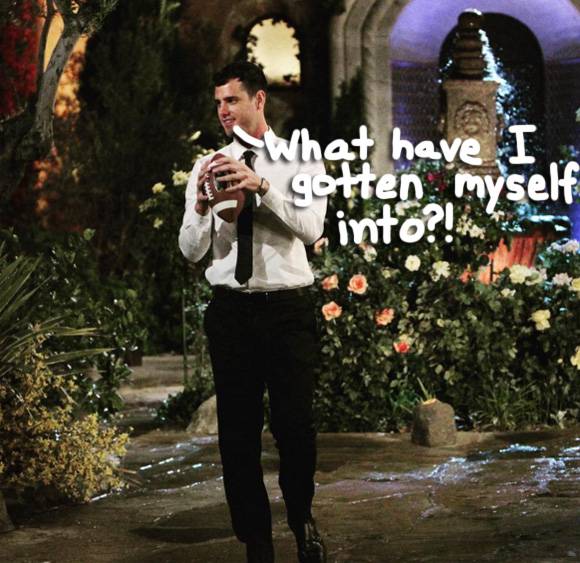 With the Bachelor finale airing tonight, I have been wondering what the draw is for this show.  Why do we watch it?  Why is it so compelling?…even for a curmudgeon like me.  A couple thoughts from the last couple of weeks:
–Twins competing for the same guy?  That's good for the family dynamic.  That won't make you insecure.  For the rest of your life.
–Does the rose ceremony remind anyone else of the tribal council from Survivor?  With only one person voting.  Sorry, you're off the island.  Extinguish your flame. (of love)
–Did Ben really tell 2 gals he loved them?  In the same episode?!  I'm clearly no expert but that doesn't sound like a recipe for success.
–Caila's departure was one of the most painful things I've ever seen.  Olivia's wasn't much better.  It is brutal to have feelings for someone but not have them reciprocated.
–Several gals said "I can't believe the way he makes me feel.  I've never felt this way."  Does that mean that he is the "one"?
"One thing's for sure. When you're on the Bachelor, you may not catch the man of your dreams, but chances are you'll catch something!"
Had some help from some great friends Susan, Caroline, and Sara this week.
7 Reasons you love The Bachelor:
You are hardwired for love. We desire it.  Plain and simple.  At its core, this show promises the discovery of true love, that one person we were meant to be with, our soulmate.  We all want that and hope for it.
You want to see trainwrecks. It makes us feel better about ourselves.  When people breakdown, go crazy, break under pressure, seem desperate, do weird things, etc. we say to ourselves:  "I'm better than that.  I would never do that."  It's the same principle as Jersey Shore.  (which I have to confess I watched from start to finish—no hate mail please).
We see ourselves in the Bachelor/Bachelorette.  We wish we were the B/B having our pick of all these attractive, exciting people fighting for our attention.
We see ourselves in the contestants.  We want to be chosen. We want to be the one that someone picks.  We want to win someone's heart.
It's funny and ridiculous. Mindless entertainment.  Even though it's crazy unrealistic.
You like competition. This is the romance version of a sporting event.  You get to root for your favorite, complete with underdogs, front runners, "hated" players, etc.  It even has Bachelor Fantasy leagues!
You want to see heartbreak. There is something strangely compelling about seeing grown men and women cry after not being picked.  We've all been in that situation.
It all comes down to tonight.  How can you choose between 2 people you love?  We'll find out tonight.  We won't be able to tear our eyes away from the screen.  Maybe we'll just have to poke them out.
Next week:  7 more reasons you watch The Bachelor
More